Have you ever enjoyed a sensuous massage with your partner at shower? with a lot of bubbles and slippery soap…
7th Heaven's girls provide one of the best erotic soapy massage session in London. This thai style massage is very sensual session and it is all about relaxation before, during and after the massage. Needless to say that you will have an assist shower before your masseuse arrives; every woman, including our masseuses get a natural turn-on from a fresh, clean body.
the Bath ritual & erotic Massage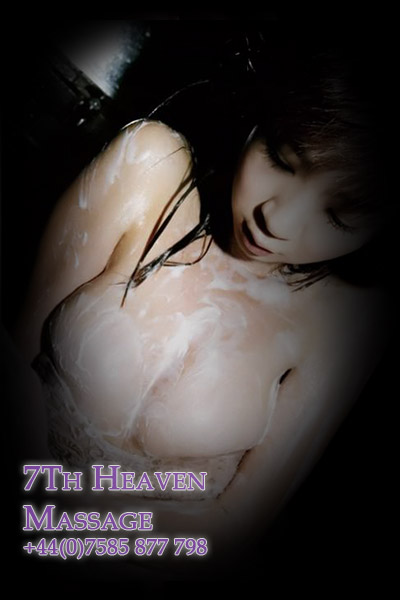 So let your relaxation therapy start with a hot warm shower and lather yourself with that creamy soap that is usually available in abundance in those luxury London hotels.
Dry yourself with a fluffy towel and either take a bath robe or wrap yourself in a dry towel; you feel so much better before your masseuse even has arrived. And yes, brush your teeth and rinse your mouth – as when your masseuse does her slippery sensual body-to-body massage, she will come very, very close… within kissing distance…
The shower massage starts out as the usual 7th Heaven Erotic Massage, but in the last half hour your masseuse will prepare a warm shower for you and take you into a stream of sensuality coming from above.
She will join you in the shower and add a new dimension to body–to–body massage; your masseuse, like wind surfers, will do it standing up!
She will gently and sensually rinse your body, leaving no spot untouched; and while using lots of soap and hot water your masseuse will finally release you from every drop of stress inside your body. You will experience trembling knees and a strong desire to lie down, but that is only a sign that she did a very good job!
1 hrs. 150 gbp
2 hrs. 280 gbp
You can get one more masseuse to join your wild soapy massage – double the fun with four hands soapy massage.
Rates are quoted excluding transportation costs.