Enjoy the massage by two sexy naked girl in London, exclusive sensual treatment in 7th heaven. Although an erotic massage or tantric massage performed by one of our sexy masseuses is already a luxurious indulgence, you can double this pleasure when you choose to book a 7th Heaven 4 Hands Massage. These are performed by two of our exotic 7th Heaven masseuses, both of whom will be intent on maximizing your pleasure. You can create your own type of heaven on earth when you choose to pamper yourself with two masseuses instead of just one. Savour the feeling of multiple hands running all along your nude body, with sensual touching occurring simultaneously from head to toe.
The Total Naked Massage Service by Two Sexy girls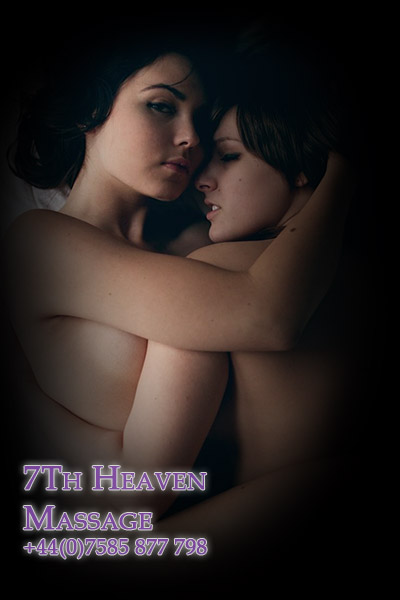 There is no better way to truly spoil yourself than with two extraordinarily hot, naked bodies of some of the most gorgeous women in London standing over you. With a 7th Heaven 4 Hands Massage, they will run their bodies along yours, allowing you to feel every soft curve on your sensitive skin. The sexual arousal factor is extremely high with this type of massage, so it is certainly not for the faint of heart. Two sets of soft, skilled hands will be touching your skin simultaneously to ensure that no inch of your body's erogenous zones are left uncovered.
Many men have the fantasy of being pleased by two sexy women at the same time. The 7th Heaven London 4 Hands Massage is an ideal way to fulfill this fantasy, with two of the sexiest women that London has to offer. The main focus of this type of erotic massage is to give you pure physical and visual pleasure.
If you have always wanted to know what it's like to be completely spoiled by two women at the same time, you owe it to yourself to try this experience. You only live once, so why not experience the incomparable pleasure of lying on your back with two completely naked masseuses oiling and spoiling you? Our 4 Hands Massage is ideal not only for international business executives, but for those in the London area who want to feel truly pampered with a new experience that is out of the ordinary.
London four hands massage
The 7th Heaven 4 Hands Massage is performed by genuinely bisexual masseuses who find that your pleasure is their pleasure. They love to pamper you and tend to your every need. Whether you are only in town on business or live in the London area and want to find a form of stress relief and release, you will find that having four hands running.
Please contact us for booking & details.
Rates are quoted excluding transportation costs.