7th heaven London Tantric Massage offering best experience to our clients – erotic , sensual slow movement by skilled sexy massage therapists.
The word Tantra derives from two Sanskrit words 'tanoti' (meaning to stretch, extend) and 'trayati' (meaning liberation). Tantra itself deals mainly with spiritual practices and rituals that aim for liberation from ignorance and re-birth.
Tantra was introduced to the Western world by the English author Sir John Woodroffe (1865-1936) but in more modern times Tantra has come to be viewed as a 'cult of ecstasy', combining sexuality and spirituality through various acts including the very popular Tantric massages offered by Seventh Heaven in London.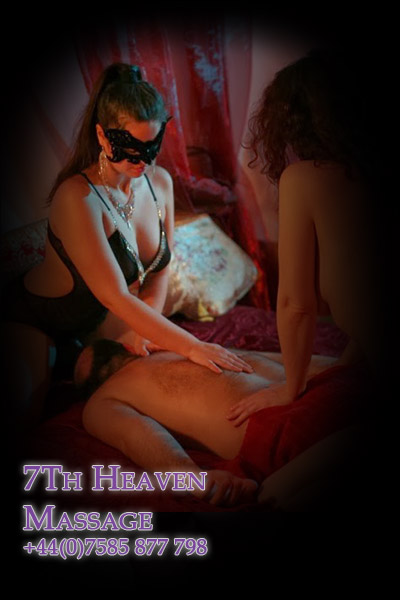 Tantric massages are awakening; the use of erotic, sensual slow movements of the hands of your masseuse will lead you into a state of euphoria. It is the ultimate foreplay in any kind of relationship.
Remember your breathing while having your massage, try to take long deep breaths from your diaphragm, in through the nose and released slowly through your mouth. This steady breathing technique will help you to relax so that the positioning of the masseuse's touches can take their full effect offering a new found bliss.
Tantric massage has many other benefits including but not limited to your sex life. Many Tantra based religions believe that our bodies have seven chakras throughout and that they may get blocked trapping our energy. Tantric practices such as massage can help to heal and balance this energy and your chakras. When your chakras become clear and healed you will find that sex will become more ecstatic and that life as a whole will become more fulfilling, taking away everyday stresses and aiding complete relaxation.
Setting the scene for your massage can be best done by selecting some soft relaxing music. It is very important in Tantra to be clean so make sure that you shower or bathe before your experience begins.
The best for London Tantric Massage
A nice warm room is essential and if you can use candles do so; if not soften the lighting. Your masseuse will bring special oils with her to perform the massage.
During your Tantric massage your penis is usually referred to as a 'Lingam' meaning 'Wand of Light' and although the massage doesn't actually involve penetrative sex it does involve touching of the sexual organs; sometimes during and at the end of the massage.
Be aware that Tantric massage in London has a tendency to cause orgasms but this is not necessarily the main priority. These orgasms are usually seen as an extra, rather than the main aim of the massage. However if you are a man who finds it difficult to achieve an orgasm it is often a great foundation that can be built on over time to achieve some success in your sexlife. Tantric massage will make you become more relaxed and experience some degree of pleasure. Likewise London Tantric massage is often used as an enhancement to prolong sensual pleasure helping to control premature ejaculation.
Don't be fooled into thinking Tantric massage is just for men. We also offer a bespoke massage for females and couples wanting to enjoy it together. For couples it is an exciting opportunity to enhance and re-discover a new found love of one another.
London has a growing number of Tantric massage providers. There are the authentic Godesses, escort agencies offering a Tantric experience and independent escort girls posing themself as a Tantric masseuse. But there are also agencies specialised in sensual and Tantric massage, whereby the masseuse visits your home or hotel for that much needed Tantric massage to relax and rejuvenate you. We at Seventh Heaven London tend to say first try the rest and then come to the best. (Read more about our special erotic tantric massage)
Remember that a sensual Tantric massage, performed by a skilled, experienced masseuse can be described as an extremely enjoyable experience. When you regularly let go and enjoy the Tantric touches, over time the Tantric sensuality will fill you with inner peace and euphoria.
A perfect state to be in, we would say.
Book an Erotic Tantric Massage for your stay in London
Please visit our erotic massage service page for rate or simply contact us to book your session.
Our massage center open daily from 10am – 3am(night)
Outcall massage available for London
Rates are quoted excluding transportation costs.