The London Sensual Surrender treatment is a special extra sensory massage. Your masseuse will use various props to de-sensitize you in order to maximize your pleasure.
In the business world, you will find yourself responsible for making decisions all day. If you are an executive, this is particularly true, as you will be expected to be in complete control and call the shots for others. Chances are, if you are an executive, you are quite good at being in control. The corporate business arena can be fast-paced, hectic, and stressful, so in order to balance this out you must find a way to relax. With a 7th Heaven Tie&Tease massage, you can put yourself on the path to relaxation by putting your physical sensations in the hands of one of our skilled and sexy masseuses.
London Tie & Tease service
The Sensual Surrender Tie&Tease experience is designed for powerful executives who want to be transported out of the realm of the ordinary, into another state of surrender. Those who are in power reap great reward from being able to give in and surrender during this type of treatment or massage. For once, you can just lie back and let someone else tell you what to do, while indulging in the ultimate pleasures of a London sensual massage. Your sexy masseuse will be in complete charge of the situation, meaning that you can give in.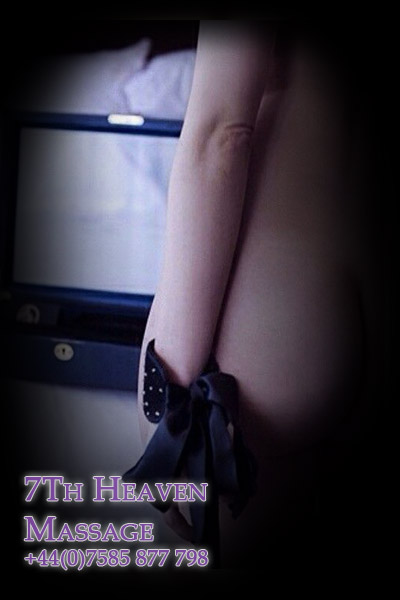 Going beyond any ordinary erotic massage, the 7th Heaven Sensual Surrender treatment puts an emphasis on all of your senses rather than simply the power of touch. This is an extra sensory massage, with your masseuse making use of a number of various props which are designed to desensitize you for the maximum level of pleasure. You will remain passive throughout this experience, as your sensual mistress ties you up with a rope. Your eyes will be covered with a blindfold to take away your sense of vision, allowing you to let go and give in to the massage.
At the masseuse's discretion, she may or may not also decide to block your auditory senses by allowing you to listen to Tantric music while she works her magic during the 7th Heaven Sensual Surrender. The goal of all of these sensory deprivations is to heighten the sense of touch. Because you will be unable to see your masseuse, you will anticipate her every move even more greatly than you would if you were in charge of the situation. Your mistress masseuse is in complete control, and you will have to simply wait for the events to unfold. She will massage and stimulate you from head to toe, with unprecedented stroking movements. Because you will be extra sensitive, each touch and stroke will seem extraordinary.
This treatment can be extremely arousing and intense. Your masseuse is in complete control, and you can only surrender to her stimulating touch. The end result of all of this extra sensory stimulation is a flowing river of stress release, leaving you feeling relieved, stress-free, and with a full sense of ultimate well-being.
Specials: In 7th Heaven , we offer various of sensual treatment & fetish treatment to fulfill your fantasy, if you like to worship masseuse's legs or feet , then our Feet fetish massage is just design for you…
Book a London Tie&Tease
Book a Tie&tease massage or any other erotic massage service in London with 7th heaven today.