7th Heaven is an high class erotic massage agency based in Central London, we have team of sexy massage girl who are well trained to give you the most voluptuous massage experience in London.
About the Massage
Erotic massage dates back for thousands of years with references in the famous guide Kama Sutra and is not a conventional massage; it is a pure sensual erotic experience, focusing on the power of tantric touch and the art of adult massage therapy. In fact, an erotic massage does not necessarily mean you must do any sexual activity.
Despite having its origin in India this type of massage, also known as Lingam massage or Happy Ending Massage, has become very popular in the western culture and it is available in massage parlours throughout the UK. Naturally the capital London has more providers of erotic massage than any other city in the United Kingdom. London is where it is all happening.
Having an erotic happy ending as its goal, erotic massage focuses on skin-to-skin contact that becomes more and more sexual during the massage session. For example, instead of covering the body with towels, the London erotic massage is done with the subject naked. The intimate parts of the body will be touched in a slow and teasing manner. This usually results in an increase of sexual arousal.
Our London Erotic Massage
Imagine a unique, personal erotic experience, where one will be able to release the tensions from the daily routine and abandon into a world of luxury and sheer sensuality.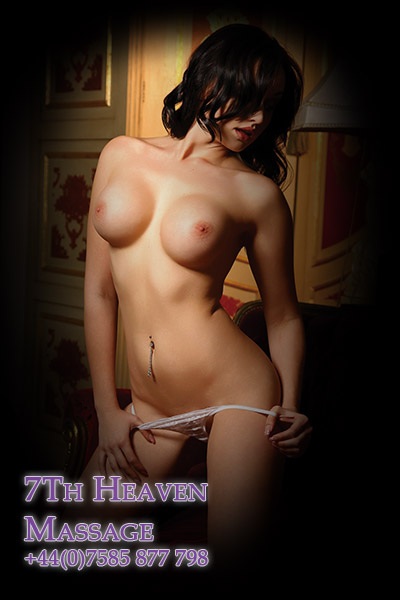 The masseuse a beautiful elegant, sexy and sensual women who is skilled in the art of massage, will use not only her hands but also her hair, lips, tongue or even feathers and blindfolds.
To further spice it up she might also tight the subject's wrists to the bed leaving him at her mercy.
An experienced and highly skilled erotic massage therapist has the power to read ones body from head to toe with their hands. She will operate in the narrow, but yet perfect, balance between intermittent firm pressure, flowing stokes and feather-light touches designed to tease and delight.
The highlight of any erotic massage session is when the masseuse slides her body against the subject's own body taking him to a complete new level of satisfaction.
A London erotic Asian massage is an experience that cannot be replaced by any other type of massage. It is designed to take us to a stage of trance where physical limitations are overcome; leading to physical and mental relaxation. One will always feel emotional rejuvenated after an intense erotic massage treatment.
Moreover, any erotic massage has a very pleasurable side effect. There are many health benefits such as: it relieves stress, stimulates personal growth, treats anxiety, helps treat premature ejaculation, stimulates libido, relaxes muscles and strengthens the heart and other body organs, just to quote a few.
Obviously the customers of London's massage parlours chase these benefits: successful business men looking for an escape from the hectic, stressful and fierce business world.
the Outcall Sensual Pleasure
The success of this erotic massage is reflected in the huge number of massage parlours existing in London. Initially patrons looked for a place to go and visit (incall massage). But London's new trend is to be discreetly visited by a sensual, sexy but stylish masseuse. This way one can enjoy all the pleasures and benefits of an erotic massage in the comfort and privacy of ones house or hotel room. This is called visiting or outcall massage.
The growing number of erotic massage providers leads to a fearless competition; unfortunately often offering much more than they can actually deliver.
Like in any other business only the professionals that deliver quality and value for money will survive. Usually rates reflect the quality of the massage treatments.
Book a Massage
Contact us to let us know your special needs, and book your erotic massage in central London today, your sexy massage girl is only one call away.
Daily 10:00am – 3:00 am
Incall & Outcall
London, UK